In this longer read, I explore some of what marketers are thinking this year, how to approach a Christmas campaign and some digital options and ideas to tackle many of the challenges we face. You can skip to sections with these links.
- Christmas games online - building your own
Christmas gifting statistics
So, looking back and looking forward to Christmas this year, this is what we found marketers have done previously, how many companies gift during Christmas, and how many companies are battling this year: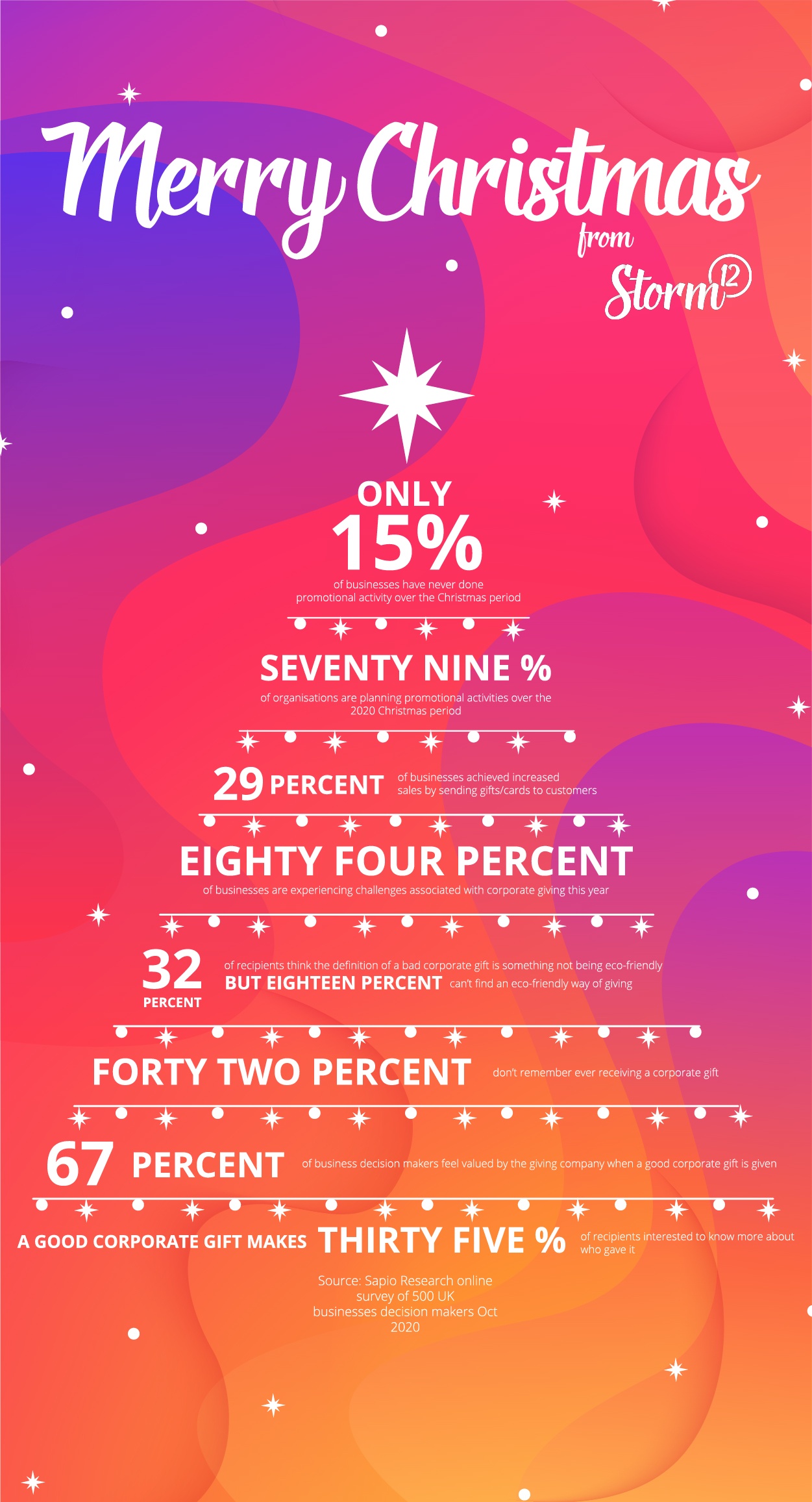 As you can see in late October, 84% companies were battling to think of ideas around Christmas this year and it's no wonder - no meeting up for Christmas lunch, difficult to get home addresses and a reduced budget are all factors playing their part this year.
Aims for your Christmas campaign
As with all campaigns, it's best to start with the end in mind - what are your objectives? This could be as simple as spreading some Christmas cheer and thanking your clients for their business. The outcome could also be being front of mind, building your brand loyalty or relationship building. Allocate engagement targets to these where you can (online engagement or calls generated etc). It could also be a bit more sales-focused to promote a product or service and act as a segue to the New Year's sales campaign. As in the above infographic, 29% of companies experienced increased sales from Christmas messaging and gifting. Being clear and honest as to the objective, with targets associated with them is the best way to get your proposal past the powers that be.
Christmas Message
When it comes to a secondary theme or message for a campaign, it's a good idea to work out from the start what the message and tone of voice of the campaign should be. Depending on the outcome set above, it could be a simple, generic Christmas message or a more empathetic and compassionate, with thoughts of what clients have been through this year to build a bit of brand loyalty. Alternatively, a more fun and light-hearted tone and even a bit of humour could also be great to set yourself apart and certainly would be good if it's designed around an experience for relationship building.
Who to send your Christmas campaign to?
Of course, setting your target audience is crucial. You may want to do different things and have different messages for each of the following groups:
Top clients

General clients

Prospects

Suppliers

Stakeholders

Staff
It may be a good idea to liaise with HR and Operations on these, as you could pool creative resources, time and budgets, albeit there may be different messages and gifts for each. Many situations demand targeting all these groups, so working out what goes to who with which message is important as well as prioritising spending for each.
How to make your campaign more engaging?
There are so many ways to make your campaign engaging. Of course, it may be a simple message you send and it does not need these extra elements, but if you want a more engaging and stand out campaign that draws attention, here are a couple of elements to consider:
Personalise - have your gifts or message personalised to your recipient.

Mystery - use a teaser message or an element of surprise, which can be captivating and intriguing.

Animated - moving images in an animation or video can be so much more engaging.

Humour - creating a smile or good belly laugh is both engaging and shareable.

Gamification - everyone loves a quick game, this is not used as much - experiential can make you stand out.

Experience - great for relationship building - if you design your campaign around sharing the gift, game or message in person or virtually, it will be more immersive and meaningful.
Going digital this Christmas
It's the obvious choice this year, but it does not only mean those cards are now changing into emails - it can be so much more than that. Digital can present more advantages than you think - it could be:
More environmentally sensitive.

Trackable and measurable - you can see who receives, reads or "uses" your digital gift or message.

Cheaper in many instances.
Also going digital may only be the initial delivery mechanism. If you are still set on sending a physical gift but don't have the personal addresses - see Christmas gifting below.
Digital options for Christmas campaigns:
- e-Card or Christmas emails
They are the obvious choice for many, especially when it comes to sending to your whole database. But, in designing them, make sure you have a responsive design - something that looks good on mobile as well as desktop. Your design agency should be able to design something for you in HTML to pop in your email program, so you can still control the database and delivery.
To add a bit more to the email - why not animate with GIFs? Moving images hold the reader's attention for that bit longer than static. Also, use the marketing skills you apply to other email campaigns to grab the reader's attention, like an unusual subject line and punchy text.
- Christmas animations
A great way to engage your clients and stand out is to create a Christmas animation.
Animating your message with the right kind of tone, message and brand personality brings it all to life and can be shared from your emails, website and social media. Have a look at some examples in our Christmas Portfolio

- Christmas video
With so many companies now having the tools to create their own videos, it may be a great idea to get some of the staff involved in a pass-around type of video from home. Have a look at this from Jet2, which got a lot of attention towards the end of the first lockdown, it's their version of getting ready to go back to flying: https://youtu.be/XuRiX-wgvRA
With a professionally designed logo animation in the intro of your video, this can be a great collaborative and engaging video all round.
- Digital Christmas games
Everyone plays Christmas games at home at some stage, so presenting a unique version of a game can be really unique in your sector as well as getting people engaged and involved - and of course bring out the competitive nature in everyone! We did this two years ago for ourselves and the engagement was incredible. The average dwell time on the page was over 15 minutes, so you can see how captivating it can be.
Designing a game can take a bit of work, but if you struggle to engage your audience and are looking for a uniquely branded way to do this, then gamification is the way to go!
See our Digital Christmas game here and watch out for our new one coming soon this year.
- Christmas quiz - with a difference
Now, we have all probably taken part in a quiz or two this year, and if you are looking for a bit of relationship building with your clients or even staff - perhaps a well branded and designed quiz is the way to go. I know it may sound cringeworthy and we are all Zoomed out, but as we marketers know - it's not all about the channel, it's about the campaign and idea.
This is still a good way to spend time with your top clients, as opposed to taking them out to dinner.
For a Christmas experience, imagine setting a date and time with them for something special, ordering them some Christmas snacks, mince pies or even a Christmas dinner in, and enjoying this with them over Zoom with a fun quiz. But no ordinary quiz - one that is designed on your website or microsite and something you take them through. It can therefore be fun moments you share with them, rather than just sending them an email. We did something similar in lockdown 1.0 but in a marketing sense - see our emoji brand quiz, marketing quiz and brand colour quiz which got a lot of attention and traffic.
- Christmas Zoom experiences
Of course there are loads of other purely experiential ideas for your Christmas, from dressing up, to Taskmaster or Christmas cocktail making which you can share with your clients or staff. Setting a custom or even animated Zoom background is also a great added extra too.
- Christmas gifting
If it comes to sending something to your clients and you don't know their addresses, there are of course ways around this that many retailers are starting to offer. First, there is the obvious gift voucher route and generic ones from Amazon and Love2Shop are popular.
But, if there are specific gifts you are looking for to personalise further, a voucher for the specific amount with the picture of what you are gifting is a good way to show you have thought of them, and then it's up to them to order and add their address with the retailer themselves. It might sound clunky - but if you deliver this in the right way on email, it can make all the difference and further personalise the message. This way, all the delivery is taken care of by the retailer themselves and it frees up your time to focus on the message and creative assets.
I hope this gives you more options and ideas to think about this Christmas - as one of my connections put it "It's a toughie this year!"
Back to Blogs